Aussie party rockers Dune Rats have released the official music video for their latest single Bullshit.
Set in a messy, junk-filled back yard – it's a pretty sweet summary of a bunch of aspects of Australia's uniquely weird and random party culture. It's absolutely jam-packed full of stuff like gambling, shotgunning tinnies and drinking shoeys –  and whilst it may be a slightly surrealist depiction of day-drinking culture, that's not to say that it is by any means an inaccurate representation.
"We just wanted to throw a sick backyard party, get all of our Byron mates there and roll the camera of us doing some funny stupid shit and see what'd happen," drummer BC Michaels told Noisey.
Other activities that the Rats partake in include using a home-built skate ramp, diving off a roof into a blow-up pool, playing redback ping pong (oh the memories and the pain) – and to top off the quintessentially Aussie gatho there's a dude in a bong costume doing a kick flip on a broken ping pong table.
The only way they could have gotten more Aussie would be if they had these guys in attendance.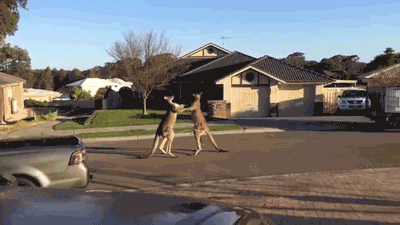 You can catch Dune Rats touring in support of Violent Soho in a slew of dates across the country, with ticketing info below.
Watch: Dune Rats – Bullshit
Violent Soho WACO Tour
Support by Dune Rats and DZ Deathrays.
All shows on sale now
Tuesday, 10th May – NEW SHOW
The Tivoli, Brisbane
Tickets: Violent Soho
Wednesday, 11th May – SOLD OUT
The Tivoli, Brisbane
Tickets: Violent Soho
Friday, 13th May – SOLD OUT
The Tivoli, Brisbane
Tickets: Ticketmaster
Saturday, 14th May – SOLD OUT
Forum Theatre, Melbourne
Tickets: Ticketmaster
Sunday, 15th May – SOLD OUT
Forum Theatre, Melbourne
Tickets: Ticketmaster
Monday, 16th May – NEW SHOW
Forum Theatre, Melbourne
Tickets: Ticketmaster
Thursday, 19th May
Thebarton Theatre, Adelaide
Tickets: Ticketmaster
Friday, 20th May
Metro City, Perth
Tickets: OzTix
Thursday, 26th May – NEW SHOW
Enmore Theatre, Sydney
Tickets: Ticketek
Friday, 27th May
Enmore Theatre, Sydney
Tickets: Ticketek