It's still kind of strange to be going to a concert these days. While everyone is revelling in the euphoria of being able to do something we all clearly once took for granted, there's still a slight air of caution, uncertainty and frankly suspicion still lingering in the air. The way the government has sidelined the live music industry throughout the pandemic has been disappointing but not surprising, but also might have subliminally instilled fears of the safety of concerts and festivals within all of us – though the same thing mightn't exist for a packed out game with 30,000 people in a stadium. Can't imagine why?!
But as the music world came to a complete halt over the past year, the culture in general was hitting full throttle. As we watch governments across the world grapple with a once-in-a-century pandemic, we've seen people rise up against these governments for upholding and enforcing systemic prejudices (to put it very lightly). We've seen protests for Black and Indigenous lives, protests for women's safety…everywhere and for immediate and sufficient action against climate change pop up nationwide. Those issues are dominating the cultural lexicon, so it makes sense that those issues would permeate Jack River's wonderful and thought-provoking show at the Sydney Opera House's Forecourt, Visions of Us, on Friday, 9th April.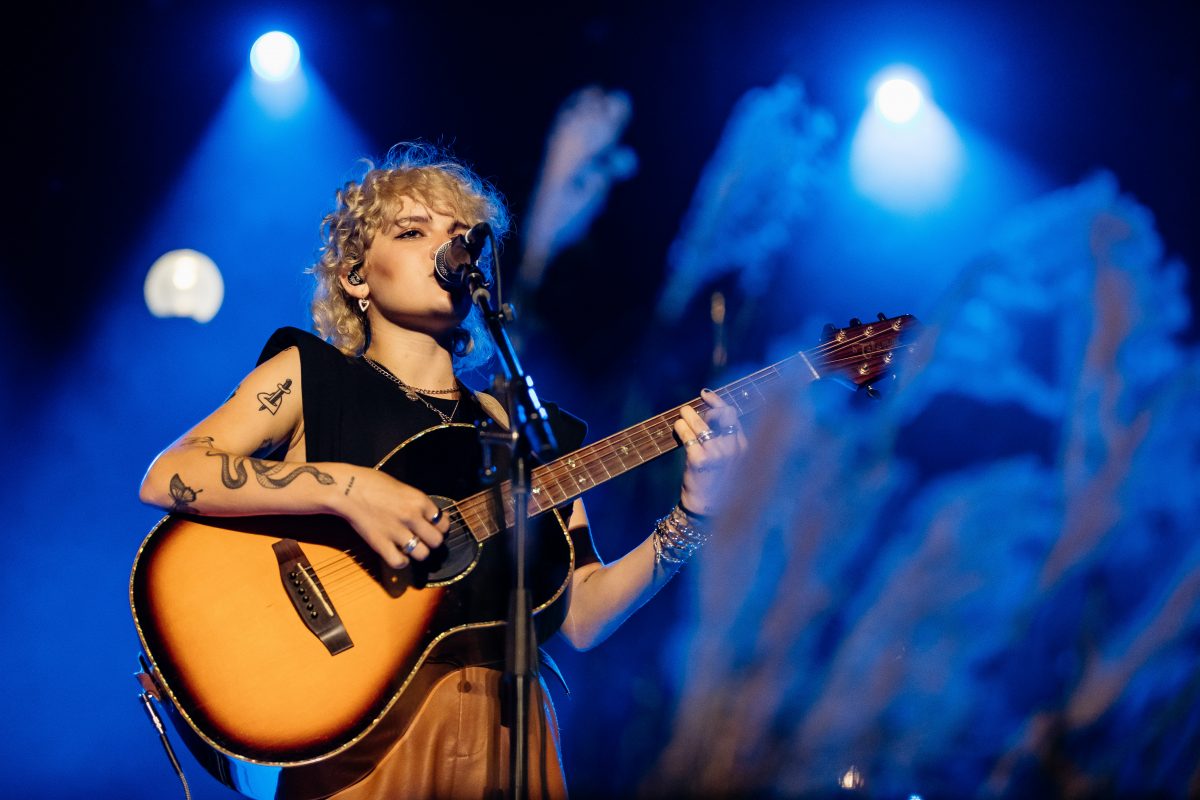 MAY-A took to the stage to open the show, and provided the audience with a washing sense of relief. We haven't forgotten how to exist at a gig, and we certainly haven't forgotten to have fun at one either. Considering no one was allowed to dance at the show, she made it incredibly difficult to fight the urge to sway with her as she belted out tracks like 'Apricots', 'Green' and 'Time I Love To Waste'.
As the main event began, the first person to step to the microphone wasn't Jack River herself, but Gunai woman and award winning writer, Kirli Saunders. As the crowd fell hushed, Saunders read her poem, title Tidal, which perfectly laid out what fans could expect from this evening. The poem spoke about the sacred connection First Nations people hold with the planet, and how the planet – 'Mother' – is the most special and almighty thing in each of our lives. It compared the desecration of Mother to the complete ignorance those in power treat women with. It was a stirring entry fit for a stirring evening.
Now, as Jack River wandered onto the stage and began performing, she made it clear that this would not be like any other Jack River show. She let the audience know that instead of explaining some songs or making "bad jokes" in between tracks, she'd be inviting a smorgasbord of people who represent the culture to say a few works. Set amongst native flora facing the Sydney Opera House and the Sydney Harbour Bridge, Jack River powered her way through her distinct style of alt-pop with tracks like 'Ballroom' and 'Fault Line'.
Next up to the podium was Brooke Boney, whose grace and unwavering conviction once again drew the crowd to a complete silence. She took her time to reflect on Black Lives Matter and Indigenous Deaths in Custody (protests on the latter were taking place around the country literally the next day). While she warned audiences that they might feel uncomfortable, she also said that was her aim. "If you feel uncomfortable, it means you're a good person," she said. We sat and enjoyed live music on stolen land, and it's something the Forecourt shows throughout the weekend would serve as a reminder of. 
The incomparable Ziggy Ramo took to the stage on Saturday night, and if you've ever seen him live before, he makes no apologies for calling out the government and the complicity of white people, and how that has so adversely impacted First Nations people for centuries. In addition, acts that truly represent the faces of tomorrow would be playing a showcase titled Barrabuwari at this very spot. JK-47, Barkaa, Becca Hatch and more. This is important because the Sydney Opera House is something that's considered quintessentially Australian, and having these artists play there is a direct effort to dismantle the idea of what "quintessential Australia" is. Jack River understood this, and it explained her choice to showcase the talents of Budjerah that would leave the entire crowd in awe.
Budjerah is a talent that comes by rarely. Fresh from high school, he noted the importance of this night to the crowd – "I've only been to the Sydney Opera House once, and now I'm playing here". He played a song dedicated to his grandmother, 'Because Of Her', and it was spellbinding. His voice never sounded off, pitchy or out of tune. He had masterful control and a silky quality to his vocals reminiscent of some of Frank Ocean's best work. He stood almost completely still with his guitar, but the crowd hung on every pluck to the point where it seemed like we could have watched him all night.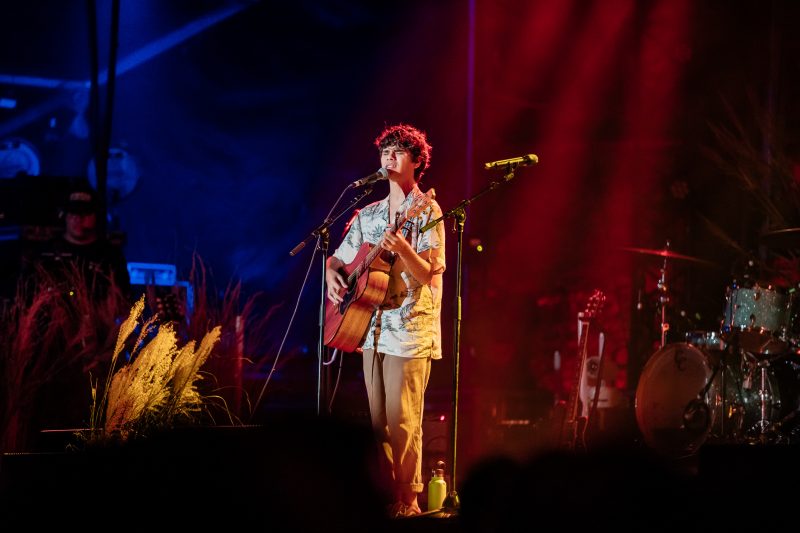 Jack River felt the same way, as she stressed how hard it would be to follow him up. But she did, with the electrifying presence she hasn't had the chance to showcase in months. She played a slowed down version of 'Sugar', her collab with Peking Duk (or as she referred to them, "some fun boys from Canberra"). It transformed the 90s-tinged EDM track into a spotlit slow-burner, which fit perfectly within the mood of the night. 
But nothing was slow-burning about River's next guest. Grace Tame has been making a name for herself among young Australians ever since she took out Australian Of The Year for her work in advocacy for survivors of sexual assault. Her presence is uncompromising, with a stare that signals to any audience member that it's time to listen up. 
"By selfless self-expression we forge our collective progression because, though there may only be one who can tell it, a single story heals all those who hear it," she said.
"We are the teachers now. There are new voices echoing in the chambers, stripped back to their bare wood and rebuilt. The language we lost sight of amid the darkness has come back to us: Love, compassion, common sense on common ground."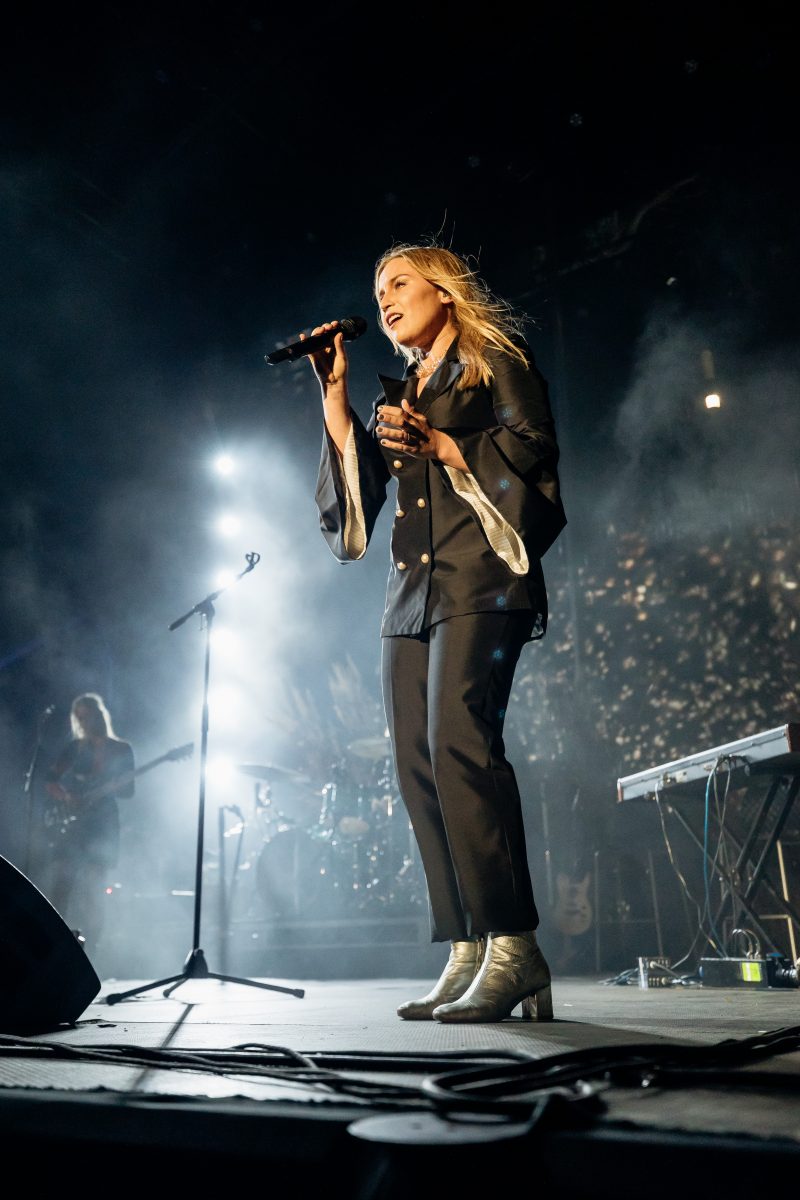 It's moments like that which are hard to forget, words emblazoned upon the minds of every single person in attendance that evening. It was invigorating and rejuvenating, and explains why – despite still (for whatever reason) not being able to dance in this outdoor space – everyone got to their feet for Jack's final solo song of the night, "Fool's Gold". A mini mosh pit opened up at the front of the forecourt, but it didn't feel the same as 'before' – it felt better.
Jack River capitalised on this momentum by bringing out Annie Hamilton and The Preatures frontwoman Isabella Manfredi out for a heartfelt and pressing cover of Joni Mitchell's 'Big Yellow Taxi'. A song which has been remade and covered so many times throughout history because of its continued resonance, particularly with the concerns around the environment. But as the crowd sang along to every word, it became clear that any of the people involved in the night's proceedings were not going to stand idly by to let things be taken away from them. They might hop in the car, too, but they'll be behind the wheel, steering much-needed and much-welcomed change.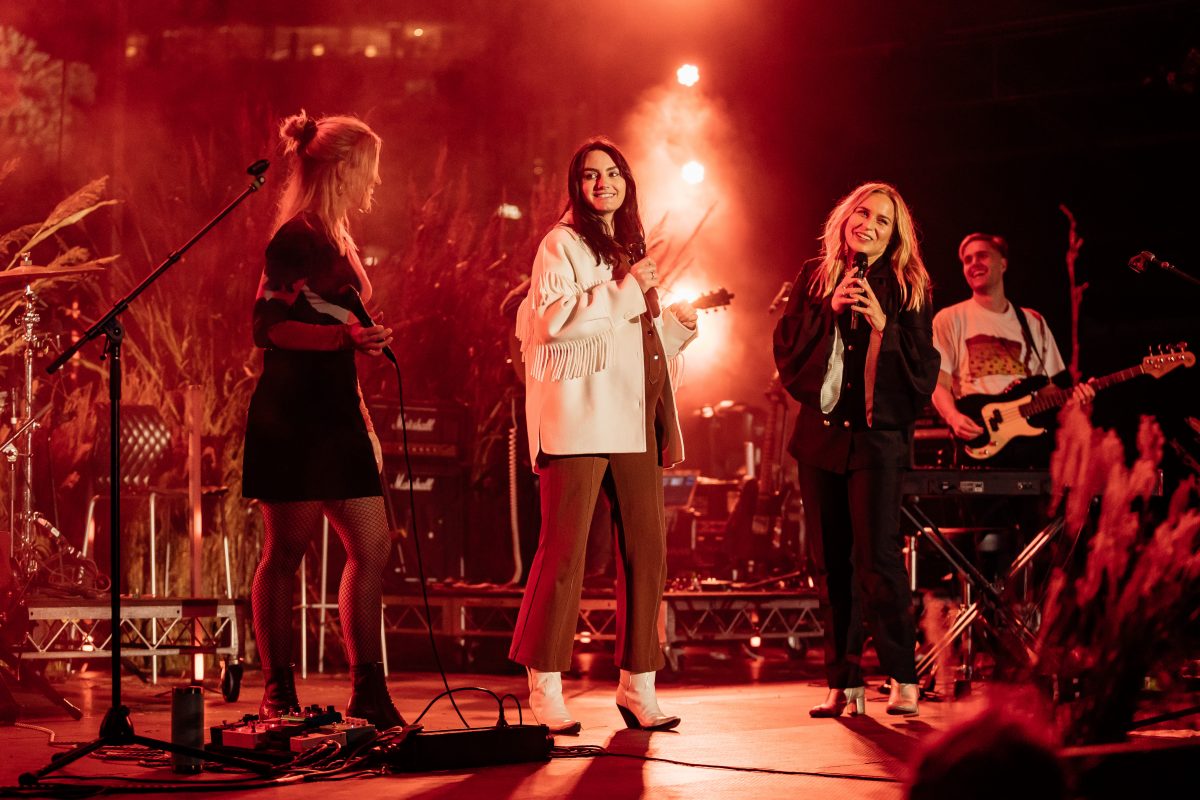 Jack River presented a show that was centred in showcasing diverse voices on diverse topics, but the one singular message was loud and clear: we can, and we will, determine this planet, and its people's, future and our voices will be heard no matter what.