After it was rumoured that Ozzy and Sharon Osbourne had split up after 34 years of marriage, Ozzy then quashed rumours that he had since fallen off the wagon and started using drugs again.
Now, on her daytime series called The Talk, Sharon has spoken out for the first time since the split was reported, confirming that love is a lie, and that Ozzy had indeed been kicked out of their marital home.
Sharon had missed the taping of Monday's edition of her show, but returned on Tuesday declaring that she was doing well since the split. "I'm doing great," she said. "I honestly am empowered and I have found this inner strength. I can handle this."
She spoke candidly about the split, but did not address unconfirmed rumours that have been circulating about Ozzy cheating on her with their hairdresser. "He's given me unbelievable light, he's given me three gorgeous children. You know I love him," she said. "We're talking, I spoke to him last night. I'm not with him, but I speak to him."
When asked what the future held for herself and Ozzy, Sharon said: "I honestly at this point today have no idea what I'm doing with the rest of my life. I just need to time to think about myself, and what do I want for the rest of my life. [I'm] getting to the last chapter of my life. I really want to think carefully about where I want to go … because I'm 63 years of age, and I can't keep living like this."
We can only live in hope that Ozzy will make things right, and all will be right with the world once more.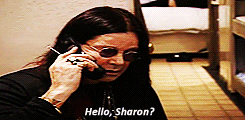 Oh and in lighter Ozzy Osbourne news, he's teased a "very special announcement" with Slipknot frontman Corey Taylor coming at the end of this week.
Wouldn't have anything to do with Ozzfest, now would it?