If you were stopped in the street and asked which song more Australians had sex to in 2016 than any other, what would your answer be?
If you didn't say the 'Cantina Band Song' from the soundtrack to Star Wars: A New Hope by John Williams, you'd be dead wrong. Yep, the iconic song that George Lucas would have us believe was performed on instruments almost-exclusively resembling oboes and bassoons is apparently the go-to song for Aussies wanted to get jiggy with it.
Ohhhh yeaaaah.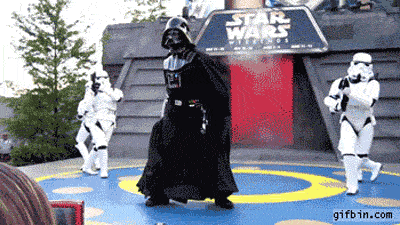 As Gizmodo reports, Spotify has recently released a list of the top tracks listened to my Aussies around Valentine's Day, as well as those from the whole of 2016 included in people's playlists that included the word 'sex' in the title.
The remaining songs in the Top 10 Sex Songs for Aussies were pretty predictable, with the likes of Rihanna's 'Sex With Me', Kings Of Leon's 'Sex On Fire' and other tunes from Jeremih, Frank Ocean and The Weeknd securing spots.
When it came to Valentine's Day tunes, 'Thinking Out Loud' by Ed Sheeran topped the list, and was joined in the top ten by John Legend, Sam Smith, Jason Mraz, Seal and more.
In comparison the US lists were pretty much the same, but without the inclusion of the Cantina Band song.
They obviously don't realise just how sexy Star Was can be….
Check out the lists in full below.
Listen: Star Wars – 'Cantina Band Song'
Top Sex Songs In Australia
Cantina Band (from the "Star Wars: A New Hope" Soundtrack) – John Williams
Birthday Sex – Jeremih
Sex (Cheat Codes X Kris Kross Amsterdam) – Cheat Codes
Sex With Me – Bonus Track – Rihanna
Pony – Ginuwine
Sex on Fire – Kings of Leon
Often – The Weeknd
Earned It (from the "Fifty Shades Of Grey" Soundtrack) – The Weeknd
Thinkin Bout You – Frank Ocean
Slow Motion – Trey Songz
Top Valentine's Day Songs in Australia:
"Thinking Out Loud" – Ed Sheeran
"All of Me" – John Legend
"Stay With Me" – Sam Smith
"I'm Yours" – Jason Mraz
"Can't Help Falling in Love" – Elvis Presley
"Love Me Like You Do" (from "Fifty Shades Of Grey) – Ellie Goulding
"Kiss From A Rose" – Seal
"She Will Be Loved" – Maroon 5
"Crazy In Love" – Beyoncé
"Your Song" – Elton John